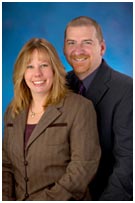 When you join expertise in advertising and marketing with quality printing services, you create a full-service, professional marketing company. That's exactly what happened when Kirsten Whitten and Edward Garneau joined together to create G.T. Graphics & Marketing in Hanson, MA. Today, the company provides: logos and taglines; sales presentation packages; press kits; direct mail campaigns; promotional products; business cards, letterhead and envelope packages; postcards; posters; fliers; invitations and signs. G.T. Graphics & Marketing performs a dual role as marketing manager and customer service representative for its clients. The company manages clients' jobs from concept to delivery, including writing, design, printing and mailing services.
Ed has over 20 years of hands-on experience in design and printing. Since establishing G.T. Graphics in 1995, he has been providing clients with superior printing services that combine the highest professional standards, personalized attention and quality results.
Kirsten brings to the team more than a decade of public relations and marketing agency experience. She spent the last 10 years at two south Boston-based agencies. Her last title held was Integrated Marketing Specialist and Public Relations Director, managing regional and national accounts. An experienced speaker and trade show presenter, Kirsten is a published writer and an Adjunct Professor, teaching Public Relations. She has received a half-a-dozen Bell Ringer Awards from the Publicity Club of New England, recognizing her work for publicity campaigns and independent projects (see below) and has an M.A. in Integrated Marketing Communications from Emerson College.

For more information or to request a quote, please go to our contact page or call 781-524-1015.